Webinar Description
This is a two-part series!
Part 1 – Diversity: Discover Your Potential
Cultural competence is defined as a set of behaviors and attitudes that enable you to work effectively in multicultural situations. Cultural competency is achieved by developing skills and practices important in cross-cultural interactions and using knowledge about individuals and groups to create practices and policies to create an inclusive environment.
Attendees will learn how to establish positive relationships, engage clients, and improve the quality of services you provide.
You will also learn
The definition of diversity, culture, equity and inclusion.
How to identify personal gaps in cultural competence.
How to recognize unconscious bias in yourself and others.
How todevelop an action plan that can be immediately applied.
Enjoy these webinars and more by enrolling your agency in the Convene Training + Resilience Community!
Part 2 – Race Matters
This anti-racism training focuses on structural racism. The trainers review the history of racism in the USA, address individual attitudes and knowledge, explore the concepts of internalized oppression and privilege, and examine how agency based and society-wide institutional arrangements implicitly or explicitly foster racism.
Stanton Adams Consulting encourages participants to apply the knowledge they gain to pursue racial equity in their workplace, school or community. Participants learn that they are institutional ''gatekeepers'' who can affect organizations either by acting to maintain or helping to undo racism.
You will learn
How to unpack systemic racism.
How to unravel white privilege.
How to take steps to be an ally.
How to develop an action plan that can be immediately applied.
About the Presenters:
Cecilia Stanton Adams
Cecilia Stanton Adams is the CEO of Stanton Adams Consulting, LLC and is  most known for her track record as an accomplished educator and Diversity thought leader. She is committed to a holistic approach to transforming organizations, teams and individuals with the principles of equity and inclusion.
Her education and over 15 years of experience in Strategic Diversity positions, she has contributed to the development of programs and services that increase representation of diversity from education, front line workers through to the highest levels of leadership.
Her visionary approach inspires others to recognize the diversity their organizations may be overlooking in: Recruitment, Retention, Training, Supplier Diversity and Community Relations.
Cecilia earned a Master's Degree in Psychology & Sociology from Lehigh University in 2003. She also earned a Master's Degree in Industrial Psychology from Capella University in 2009. She is currently working on earning a Doctor of Philosophy (PhD) and coaching from Sedona University.
Malissa Stanton Adams
Malissa is a diversity, inclusion and social equity expert. With over 15 years of experience in operations management and organizational development in the public and private sectors, Malissa understands how to motivate others and act as an effective liaison between organizations and members of under-served communities.
For the past 8 years Malissa has served as the COO of Stanton Adams Consulting, LLC. She also serves as the Housing Outreach Representative for Catholic Charities USA. In 2016 Malissa earned a Bachelor's Degree in Business Administration from Rasmussen College. She is currently earning a Master's Degree in Public & Nonprofit Administration from Metropolitan State University.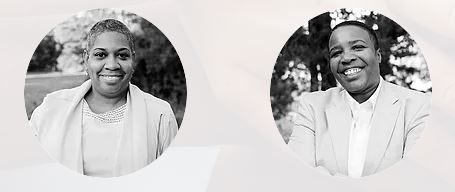 Cecilia Stanton Adams & Malissa Stanton Adams
Stanton Adams Consulting, LLC