Webinar Description
The most successful people in life and in work are those who make others feel heard, understood, and valued.
How to Magically Connect with Anyone will teach you how to make better and more meaningful connections with anyone that you meet, so that you are seen as indispensable by those around you.
Brian utilizes jaw dropping magic demonstrations and laugh-out-loud stories from a career in entertainment to deliver a powerful message about humanity. Highlights include Brian's coveted E.A.R.S. system for mastering the art of active listening, and the "Appearing, Flying Potato" tale, a hilarious lesson in pushing through and learning from failure.
After the webinar you will not just feel inspired to be the kind of person who makes others feel heard, understood and valued, but will also have a new toolkit full of instantly implementable strategies to get there.
You will learn (learning objectives) 
How to create an environment in which everyone feels heard, understood, and valued
How to develop "perspective taking" skills that inspire meaningful connections
How to integrate the four components of the E.A.R.S. system for active listening into conversations
How to discover how to get out of one's comfort zone in order to make new, daily connections
How to develop resiliency against failure
About the Speaker: Brian Miller
Brian Miller is a magician, speaker, and author of personal success book Three New People: Make the Most of Your Daily Interactions and Stop Missing Amazing Opportunities. For 12 years he has shared his magic and his message with thousands of audiences in 11 countries across 4 continents. Based in Connecticut, Brian now performs his interactive blend of jaw dropping magic and laugh-out-loud comedy at 200+ events each year.
As a child, Brian suffered from a debilitating social and speech anxiety. He was bullied and mostly friendless through middle school. Though he loved magic tricks, he couldn't muster the courage to perform for anyone. Brian got a fresh start in a new school for 9th grade, where he met another student who was also into magic. Through magic and friendship, Brian developed self-confidence for the very first time.
Founding his business at the early age of 16, Brian worked as a professional magician while completing a dual Bachelor's of Science in mathematics and philosophy, achieving a 4.0 in philosophy and receiving two international awards for presenting original work. He was accepted into a PhD program for Philosophy of Language, but turned it down in order to pursue a career in entertainment.
Brian quickly found a following with college students on the national campus activities circuit, earning two nomination's for "America's Best Campus Artist" (Campus Activities Magazine) by the age of 24.
As his act evolved, so did the demand for his work. Brian developed a reputation for mixing world class entertainment with an engaging personality and the ability to adapt to any group. He began accepting invitations to entertain at exclusive private events throughout New England, such as bar/bat mitzvahs, weddings, company holiday parties, and corporate events.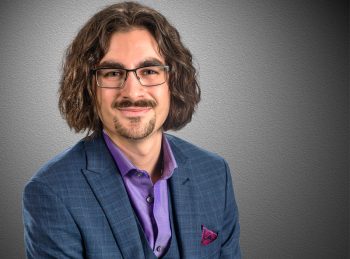 Brian Miller
Author, Speaker, Magician